Solar Electric or Photovoltaic (PV) Systems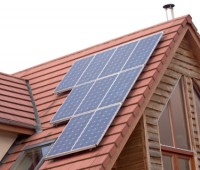 Flush roof mounted solar systems
Mounting your solar panels flush to your roof is the most popular mounting method.   If you have a southern facing roof, then this will look the best and capture more solar energy.
Tilted-Up roof mounted solar systems
Perfect when you have an east or a west facing roof. The panels are tilted-up to face a southern direction.
Ground Mounted solar system
A ground mounted solar system can be utilized when you have a large property or do not want to mount the solar panels on your roof.
_____________________________________________________________
Grid-Tied System
With a Grid-Tied Solar Electric System, your solar panels are connected directly into the electric utility grid, which means they are not "directly" powering your home.
The solar panels feed electricity into the grid and you get credit for the energy that is produced.
The benefit of a grid-tied solar system is that in California and other states, your solar system must be tied to the grid in order to receive the state rebate.
Off-the-Grid System
Some homes are located in a rural location where it is too expensive to run a power line out.
A solar electric system that is not tied to the electric utility grid is a great option and a cleaner energy supply than a propane generator.
In this case, the solar system actually does directly power your home.
You will need a complete battery system which will power your home at night and when the solar panels are shaded from the sun.
Ask your HelioNation-Approved Solar Installer if an Off-the-Grid Solar System with a battery system is the right solution for you.
Click here to receive 3 solar quotes from HelioNation-Approved Solar Installers.