The San Diego solar power industry leads the nation in solar panel installations, yet permit fees have been raised to 6 times their normal cost.
The city has decided to no longer subsidize San Diego solar installation fees and permits have increased from $93 to $565.  We have moved from being the 3rd-cheapest place in the county to get a permit for a photovoltaic system to the 2nd most expensive.  National City leads in pricing at a high of $595.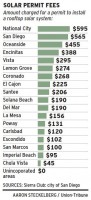 Unincorporated communities pay no fees as the government encourages solar development.  Officials say the fee increase is not meant to increase the city's general fund, rather to balance out the cost of sustaining the program.
"Fees are needed if the industry is to grow", says Mayer Jerry Sanders.  "We wouldn't have the people up there to process applications if we can't have the fee structure that allows them to support themselves.  We are encouraging solar, but one of the things we've learned is we get sued when we subsidize one type of development from other developers."
Sanders also said that these fees are a fraction of the cost of San Diego Solar Installation, which can top $30,000.  He also added that in a few months, a new program called the Clean Generation program would issue low-cost loans to residents for San Diego Solar Installations.  Loans could be carried over 20 years and paid off through their property tax bills.
The amount of Solar Systems in San Diego continues to rise, currently at an astounding 2,262 according to the non-profit group Environment California.  Electricity generated by 2,262 solar panels is equivalent to the power of 12,000 San Diego homes.
San Diego City promises to conduct an annual review to verify that fees are balanced based on costs and make adjustments accordingly.